Lunch Lady and the Schoolwide Scuffle
by Jarrett Krosoczka
Published by Knopf Books for Young Readers, 2014
In this latest, and reportedly final, book of the series, the Lunch Lady and her sidekick Betty have been cut from the school budget. But back at Thompson Brook Elementary things are in a bad, bad way. All of the villains from past Lunch Lady stories are worming their way back into the school and the Breakfast Bunch must rally the Lunch Lady to return to her super hero ways. Will she be able to help the kids in time? You better read it to find out and enjoy lots of action and kitchen tool-gadgets along the way!
______________________
Happy Birthday, Babymouse
by Jennifer L. Holm and Matthew Holm
Published by Random House, 2014
It will be the birthday celebration of all celebrations, declares Babymouse as she plans her birthday party. It is going to be HUGE! Well, in typical Babymouse fashion that dream gets dumped upside down. Thanks, Felicity Furrypaws! How will Babymouse salvage it? Will any of her birthday party dreams come true? Check it out in this book, number 18 in the series. Lots of giggles await you!
Other Books to check out: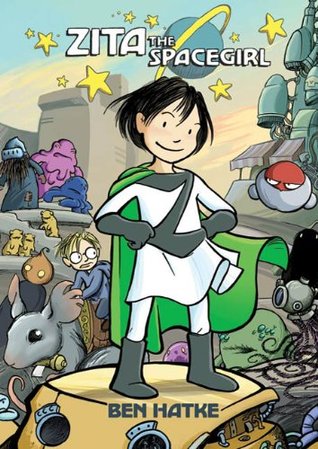 There are now three books in the awesome series, Zita Spacegirl series.
______________________
The companion book, Sisters, will be coming out in late summer!
______________________